We LOVE testimonies
at
Love's Pure Light Luxury Silks Canada
"This year 2019 has been off to a great start after discovering "Love's Pure Light Luxury silks Canada", Cydney Mariel Galbraith and her incredible hand painted promise inscribed silks!
I stumbled upon one of Cydney's silks while a friend and I wondered in a spa boutique in Palm desert, CA and my friend bought the last one! I thought it was the most beautiful and unusual scarf I had ever seen! Determined to find one I inquired who the artist was and kindly the manager gave me Cydney's website and Cydney and I emailed several times as she guided me to the perfect silk to match a dress for a special occasion. However, I loved so many of her creations and just wanted to fill my room with these silks! I can feel the love and energy that goes in to the making of the silks. And a special poem and love letter from Cydney's heart is included with each shawl!
Fortunately with Cydney's expertise I ended up with four incredible and gorgeous silks!
I am looking forward to my event in March when I wear "The Hummingbird"💖
In the meantime I tell everyone about "Love's Pure Light Luxury silks Canada" and suggest they buy at least one of these silks. I know they will bring you so much joy as the energy radiates through Cydney who is a being of pure light!
P.S. I just might have to buy one of her jackets" 😍 Marsha
Palm Desert, Ca

"If I have not your love I am nothing. If I haven't learned to love then I am nothing"

This luxury silk was more than a gift from above, the promise inscribed touched me more than the gift itself, as I have only truly learnt to love this past year! Now when I wear it, its like a cloak of pure promise. I'm walking in love, I'm giving love and I'm finally receiving love! Keep your love "on" at all times! Find your hidden promise inscribed on your own unique luxury silk garment that is just for you!The Promise: If i have not your love. I am nothing. Being clothed in love is all the world needs!
Delia Woolmann, Canada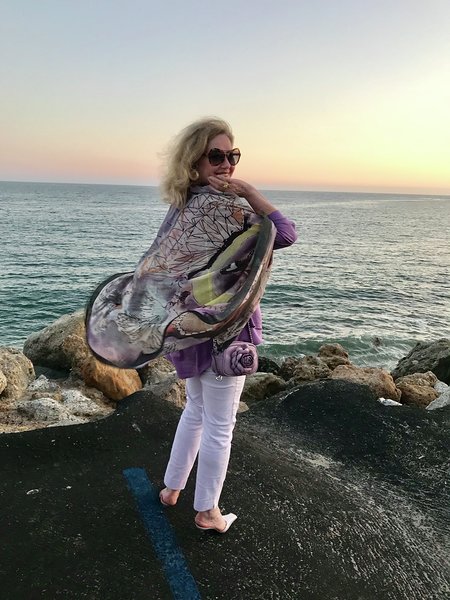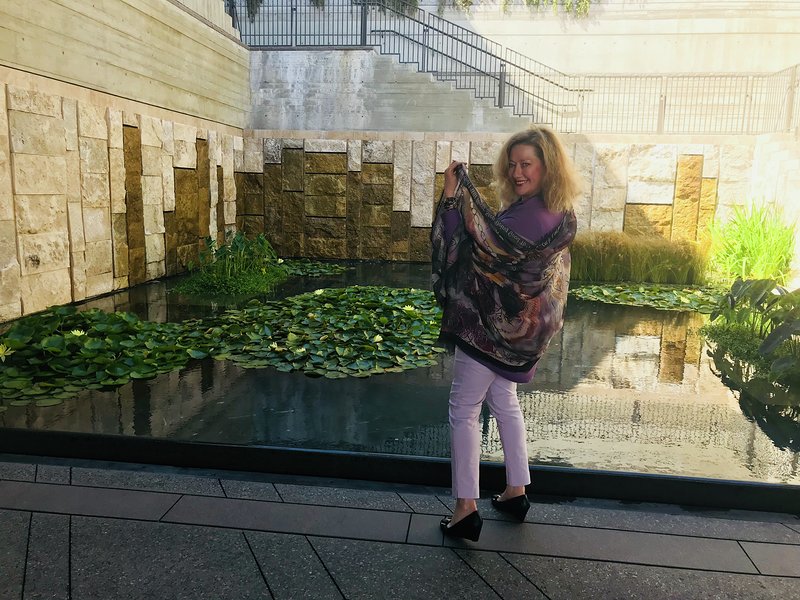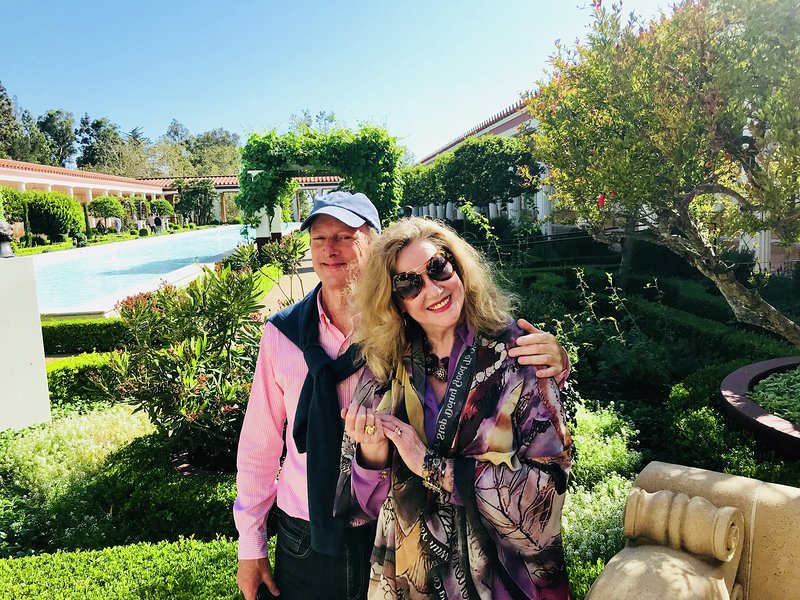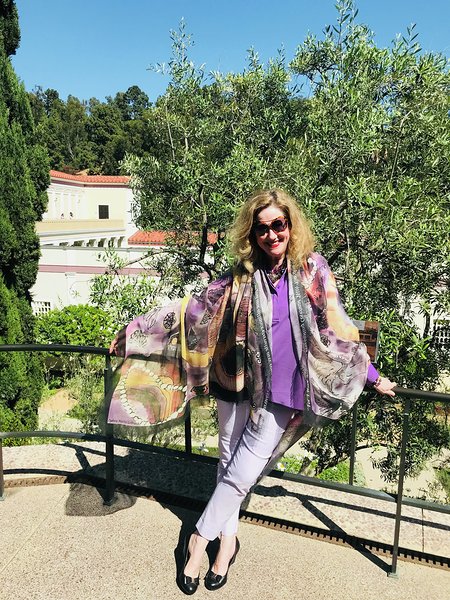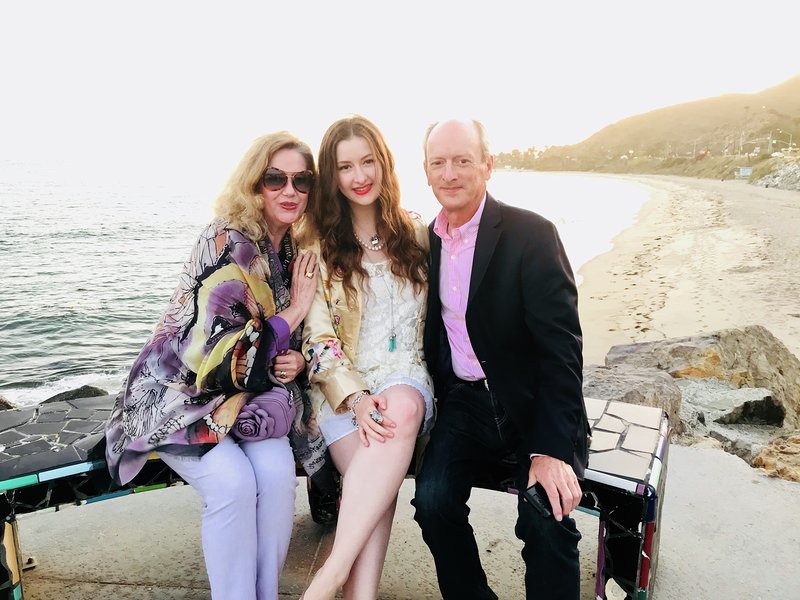 Angelica is modeling the "Everlasting Covenant" Luxury silk shawl.
"I was introduced to Love's Pure Light Luxury Silks at Ascend Conference for Remarkable Women conference in Studio City, California where Designer Cydney Mariel Galbraith was speaking at. I was immediately touched by her pure heart and prophetic spirit. That drew me to look at her beautifully inspired creations on her silk fashions of Pure Love.
My wardrobe is very simple, yet people say that I'm the absolute fashionista—the secret is silk scarves and Flaneurs. Of all my scarves, my favorites are the silks of Love's Pure Light luxury silks because of the fine quality of her luxury hand-rolled silk and the symbolic colors of her inspired hand-painted designs. What makes her scarves especially meaningful to me is that when I wear them, I know that I'm covering myself with eternal promises from the Almighty. By wearing Love's Pure Light luxury silks, I become one in agreement with the Spirit of truth, and I am reminded of my true identity and value. I am truly empowered by promise, which are artfully hidden on all of the luxury fabrics Cydney designs .Therefore, my Love's Pure Light scarves will remain my most precious possessions in my high-end designer scarf collection.
Angelika Holzapfel, Malibu, California / Germany
Hi Cydney and team!

I was introduced to your lovely silk scarves during the Black Diamond Light Up event, when I was touring around shops with my daughter and granddaughter recently. We popped into Lori's Looking Glass for a peek and Lori showed me various scarves she had available in her store. I loved them immediately! We corresponded about one, WHERE YOUR TREASURE IS THERE YOUR HEART WILL BE ALSO, pure silk, and I purchased it on a return visit the next Saturday.

I love it and receive many compliments since I began to wear it. With this being the season of the Return of the Light, this scarf and it's colours and promise/declaration are an uplifting reminder during I intend to enjoy wearing this scarf for many years but also intend to gift it to my darling granddaughter Winter when she is older! Blessings- Customer in Black Diamond, AB
Hi Cydney,
I wanted to Thank you for all the time you spent helping me find my scarf on Saturday. I love it!! The poem on the scarf speaks to my heart - I started to read it in the store and felt tears coming up:)
Your words reflect where I am in life and the trust required to know that we are loved and not to worry about the future. I am at a crossroads of where do I go next and am learning to put my trust in not only the universe but myself as well.
I wanted to let you know that if there is any way that I can support you and your business, please reach out. I would love to help if I could:) Blessings- very precious guest at Pop up event in Calgary Alberta